Aigües de Barcelona implements Samsung VideoWall solutions for their control rooms
The solution proposed by Electrotel Barcelona was Samsung's UD55E-B series, 55'' UHD monitors with just 3.5-mm thick frames. Samsung's default calibration process offers high-quality, uniform colours and brightness from the beginning.
This calibration process also offers superior white balance. In addition to the rigourous default calibration processes, the users can set the brightness and colours easily thanks to the Samsung Color Expert software.
With a frame only 3,5 mm thick (Frame-Frame distance), the UD55E-B model offers a perfect viewing experience, allowing the audience to focus on the message. The UDE-B series can show UHD contents through VideoWall configurations of up to 5×5 with no need for additional devices, only by interconnecting the monitors through DP 1.2.
This feature brings about great savings in equipment purchase and maintenance. Designed for continuous 24×7 usage, the UDE-B series VideoWalls operate at the speed of your business with no loss of picture quality or performance.
Thanks to their 500-nit brightness, they can show high-quality pictures and messages in different lighting conditions.
The UDE-B series VideoWalls feature a series of characteristics that grant asimple installation suitable for every need.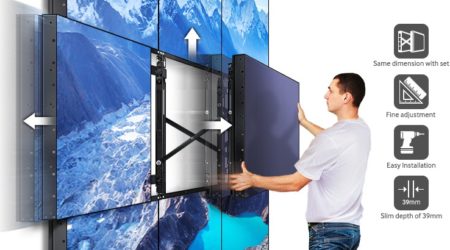 Thanks to the optional wall-mounting device for VideoWalls, the user can carry out the installation without wasting time in measuring and calculating the distances. The optional wall-mounting device allows us to move the screen in 3 directions (X, Y, Z), which is especially useful for setting or replacing screens within the VideoWall.