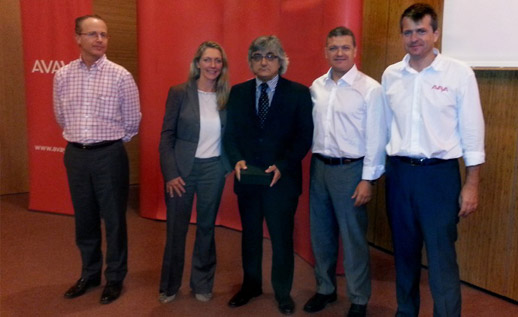 Best SME & MidMarket Project Catalonia 2013
Barcelona, October 3, 2013
After last year's success as the best SMB partner in Catalonia in 2012, Electrotel obtains back to back awards, this time as the Best SME & MidMarket Project in Catalonia 2013.
EDuring the seminars organized by Avaya to present their new iConnect specialized channel, in addition to the award ceremony, the new solutions developed were presented, as well as the possibility to deploy Avaya platforms in VMware virtual environments.VMware.
After the event, the awards were presented by José Paz (Genearl Director in Spain & Portugal), Rafael Vicent (SMEC Manager in Spain and Portugal), Michelle Jones (VP EMEA Channel Business Development) and Édouard de Fonclare (Senior Director in France & Iberia Region).